8 March 2021
.
Brussels
,
Belgium
NEWS
Recognising the incredible women in the bladder cancer community
On the occasion of International Women's Day, the World Bladder Cancer Patient Coalition highlights the impact of bladder cancer on women and celebrates women patient advocates around the world.
Bladder cancer and women
Although bladder cancer is often considered a disease of older men, bladder cancer also affects women. Around 1 in 4 cases of bladder cancer will be diagnosed in women. Whilst it is more prevalent in men, studies show that women are more likely to be diagnosed with more advanced tumours. Women also suffer a worse prognosis than men at almost every stage of the disease.
«This year, on International Women's Day, it's important to remember that while only one in four bladder cancer cases occurs in women, they have worse outcomes at every stage of the disease because bladder cancer can mimic gynecological issues and go undetected and untreated, making for worse outcomes. This must change.
Andrea Maddox-Smith, Vice-President, World Bladder Cancer Patient Coalition; CEO Bladder Cancer Advocacy Network - BCAN
There are many elements to the disparity in outcomes for women. Women may ignore bladder cancer's most common symptom – blood in the urine for menstruation or menopause, delaying seeking medical care. In addition, blood in the urine may be initially misdiagnosed as a symptom of less serious illness such as a urinary tract infection.
If caught early, in most cases, bladder cancer is a manageable disease. Therefore, it is essential that women are aware of bladder cancer symptoms and do not delay seeking medical attention when symptoms appear.
What women need to know about bladder cancer
The most important thing for women to know is the signs and symptoms of bladder cancer. The second is to remember to report any concerns to a doctor without delay. The most common sign of bladder cancer in both men and women is blood in the urine. However, there are also other symptoms associated with bladder cancer. Some may experience one or several symptoms, but it is important to immediately talk about your symptoms to your primary care physician.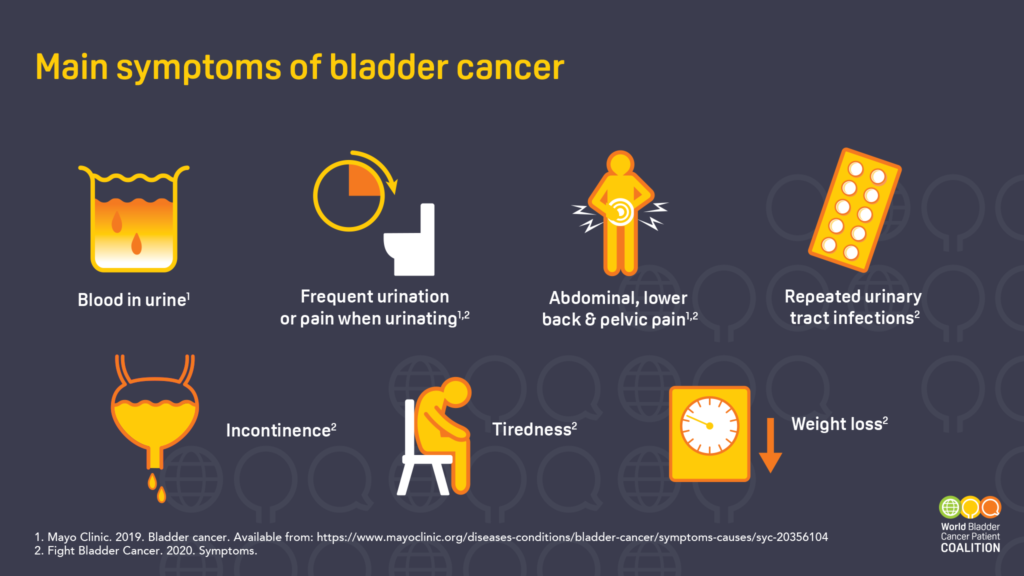 Celebrating women in our community
There are many women in the bladder cancer community around the world. From bladder cancer patients to researchers, all play a vital role to advance science and improve support for all people affected by bladder cancer.
"For this international women's day, I want to recognise not only the incredible women who are facing bladder cancer, but also those who are fighting for them. Every day, I see the efforts made by researchers, patient advocates, health professionals, and policy-makers, as well as the friends and family members of those affected by bladder cancer. Thank you for everything that you do to help fight this disease. " Lydia Makaroff Vice-President, World Bladder Cancer Patient Coalition; CEO of Fight Bladder Cancer UK
Women are the backbone of many bladder cancer patient groups in our coalition. From volunteers, support group coordinators, advocates to executives and board members. We celebrate these women today, and every day, for their tireless efforts to provide support, advocate for better outcomes for patients and raise awareness during May Bladder Cancer Awareness Month and throughout the year. The World Bladder Cancer Patient Coalition is proud to have many women bladder cancer patient advocates on our board of directors and throughout our member bladder cancer patient organisations.
"On this International Women's Day, I would like to take the opportunity to acknowledge all the exceptionally bright and inspiring women across the globe that I have the privilege of working with every day in order to best advocate for bladder cancer patients and their families. 'Wee' really are family, and so much of the important advocacy work simply would not happen without our strong, collaborative, bladder cancer sisterhood." Dr Stephanie Demkiw, Board Member, World Bladder Cancer Patient Coalition; Chair & Founder of Bladder Cancer Awareness Australia. 
One of WBCPC's core missions is to help establish bladder cancer patient groups across the world. If you are looking to start a patient support group for people affected by bladder cancer in your country or region, no matter the size, please get in touch with us. The World Bladder Cancer Patient Coalition is ready to support and guide you along the way.
To learn more about bladder cancer, please visit our bladder cancer information pages.
To find bladder cancer support near you, see Our Network of member organisations across the world.
Download Bladder Cancer Infographic
Related News & Events