7 April 2021
.
Brussels
,
Belgium
NEWS
Joint letter on COVID-19 and cancer
The World Bladder Cancer Patient Coalition is pleased to join a global campaign together with almost 300 organisations to endorse the Joint letter on Covid-19 and cancer as a call to action. The co-signing organisations express commitment and readiness to support governments in addressing the challenges in an effort to help people affected by cancer, including bladder cancer, around the world.
We recognise that healthcare systems are under unprecedented pressure due to the COVID-19 pandemic and that the global crisis has not ended yet, but the data show that we need to take action to actively address the issues in cancer care if we are to continue improving outcomes.
Covid-19 and cancer – a call to action
To improve the situation for cancer patients, the organisations jointly call on the governments to:
1) Ensure that patients can access diagnosis and treatment safely
Health systems should design COVID-secure pathways so that services for cancer patients can remain open and, where possible, provide alternative treatment modalities, such as home chemotherapy to help shield patients. Health authorities should communicate the range of actions that have been taken to allay patients' fears about COVID-19 and their condition, including appropriate measures to tackle cancer-related complications, such as cancer-associated thrombosis, cardiovascular diseases, mental health, pain, malnutrition and more. Screening, assessment programmes and other means of diagnosing cancer early must also be restored and supported, as well as efforts to raise awareness of these programmes.
2) Identify the impact of the pandemic on cancer services and design services to mitigate this
This means collecting and analysing data on the patients who were not diagnosed in 2020, modelling the likely additional demand for services due to missed diagnoses and appointments. In addition, it means investing in the workforce and physical capacity to meet this need, given the likely increase in the number of patients diagnosed at a late stage. We already have some analysed data available and we are willing to provide you with all relevant documentations.
3) Resource cancer services properly and safely for the long term
Patients must be at the centre as action is taken to rebuild and improve cancer services. This means efforts to increase multi-disciplinary care, to treat cancer and related symptoms (as described above). Early diagnosis of cancer needs to be accelerated and the uptake of innovation in cancer care and treatment must happen at pace and scale to overcome the setbacks to progress experienced in 2020. Every effort should be made to ensure that cancer services are not disrupted by any future austerity measures, recognising that spending on cancer has been stable for decades. We are ready to collaborate with you to uplift the cancer care in your country with our resources and expertise.
You can download the Joint letter on Covid-19 and cancer in PDF via the button bellow.
Download the joint letter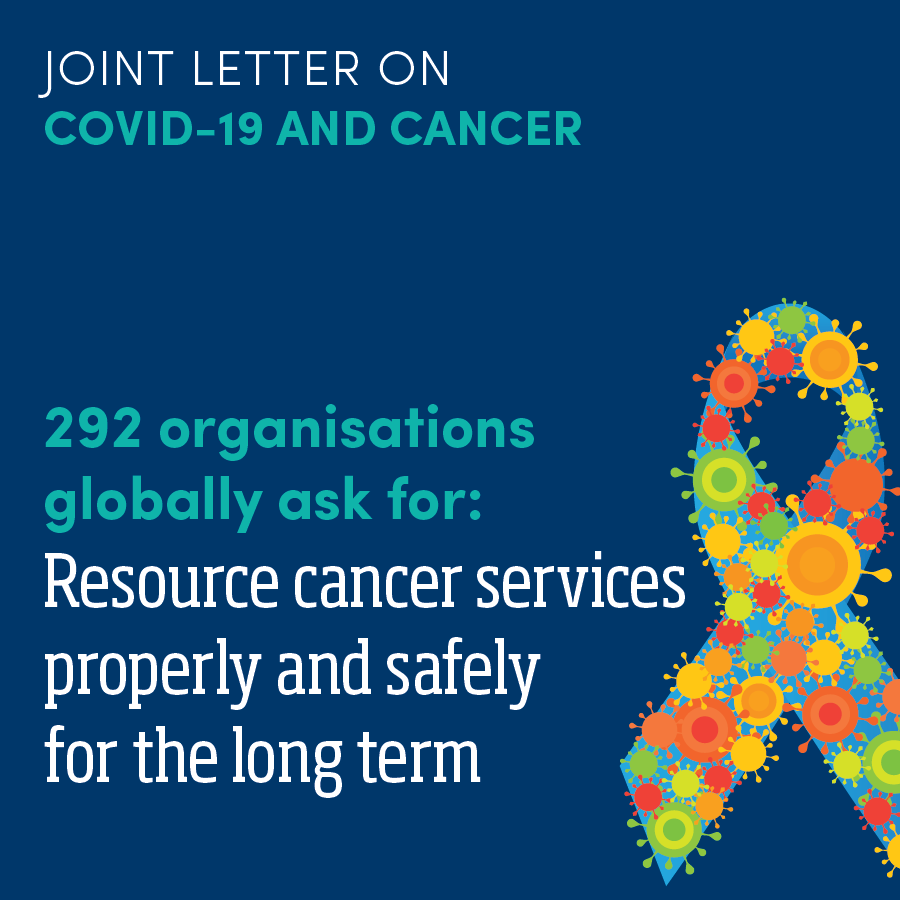 Related News & Events