14 October 2022
.
Brussels
,
Belgium
NEWS
Turkish Start-up guide for bladder cancer groups
English
Today marks the launch of the Turkish edition of the Start-up guide for bladder cancer patient groups. It is an important step in our outreach and community plans for greater support and information for people affected by bladder cancer in Türkiye.
«I hope this will inspire patients and families to come together to start the first support network for people affected by bladder cancer in Türkiye and beyond. Our suite of resources is now available in many widely spoken languages of the Middle East and West Asia regions.
Alex Filicevas, Executive Director
Bladder cancer patient groups across the globe, small and large, have an important role in improving the situation for patients and their families. Our long-term view is to see a bladder cancer patient group in every country. Today we are thrilled to launch our Know the basics: A start-up guide for bladder cancer patient groups in Turkish. Bladder cancer prevalence in the Middle East is among the highest in the world. Yet, often patient voice is underrepresented, lacking patient-led bladder cancer groups and peer support networks.
There is a crucial need to support and encourage bladder cancer patients, caregivers, families and advocates to join together to improve support, information and care for people affected by bladder cancer in their communities. Strong patient groups or networks can support and ensure the best possible outcome for the patient community in the country or region. We invite everyone ready to step up to get in touch with the World Bladder Cancer Patient Coalition so we can support you on this journey.
This extensive resource on how to start a bladder cancer patient organisation is now available in English, Spanish, French, Portuguese, Arabic and Turkish. We will continue translations and adaptations of the guide to more regions and countries across the world.
WBCPC sincerely hopes that this resource will benefit many and that it encourages others to create and grow bladder cancer patient organisations that support people affected by bladder cancer.
If you would like to get in touch with us, email us at info@worldbladdercancer.org or message us on one of our social media channels.
To download a digital copy of the guide, see below.
Turkish
Bugün, mesane kanseri hasta grupları için Başlangıç rehberinin Türkçe baskısının lansmanı yapılıyor. Bu, Türkiye'de mesane kanserinden etkilenen kişilere yönelik daha fazla destek ve bilgi için sosyal yardım ve toplum planlarımızda önemli bir adımdır.
"Bunun, Türkiye'de ve ötesinde mesane kanserinden etkilenen insanlar için ilk destek ağını başlatmak üzere bir araya gelmeleri için hastalara ve ailelere ilham vereceğini umuyorum. Kaynak paketimiz artık Orta Doğu ve Batı Asya bölgelerinde yaygın olarak konuşulan birçok dilde mevcuttur." – Alex Filicevas, İcra Direktörü
Dünyanın dört bir yanındaki küçüklü büyüklü mesane kanseri hasta grupları, hastalar ve aileleri için durumun iyileştirilmesinde önemli bir role sahiptir. Uzun vadeli görüşümüz, her ülkede bir mesane kanseri hasta grubu görmektir. Bugün Temel Bilgileri Bilin kitabımızı piyasaya sürmekten heyecan duyuyoruz: Mesane kanseri hasta grupları için Türkçe bir başlangıç rehberi. Orta Doğu'da mesane kanseri görülme sıklığı dünyadaki en yüksek oranlar arasında yer almaktadır. Bununla birlikte, genellikle hastaların sesi yeterince temsil edilmemekte, hasta liderliğindeki mesane kanseri grupları ve akran destek ağları eksik kalmaktadır.
Mesane kanseri hastalarının, bakıcılarının, ailelerinin ve savunucularının, kendi toplumlarında mesane kanserinden etkilenen kişilere yönelik destek, bilgi ve bakımı iyileştirmek için bir araya gelmelerini desteklemek ve teşvik etmek için çok önemli bir ihtiyaç vardır. Güçlü hasta grupları veya ağları, ülkedeki veya bölgedeki hasta topluluğu için mümkün olan en iyi sonucu destekleyebilir ve sağlayabilir. Bu yolculukta size destek olabilmemiz için adım atmaya hazır olan herkesi Dünya Mesane Kanseri Hasta Koalisyonu ile temasa geçmeye davet ediyoruz.
Bir mesane kanseri hasta örgütünün nasıl kurulacağına ilişkin bu kapsamlı kaynak artık İngilizce, İspanyolca, Fransızca, Portekizce, Arapça ve Türkçe dillerinde mevcuttur. Rehberin dünya çapında daha fazla bölge ve ülkeye tercüme edilmesine ve uyarlanmasına devam edeceğiz.
WBCPC, bu kaynağın pek çok kişiye fayda sağlamasını ve mesane kanserinden etkilenen kişileri destekleyen mesane kanseri hasta örgütleri kurmaya ve büyütmeye teşvik etmesini içtenlikle ummaktadır.
Bizimle iletişime geçmek isterseniz info@worldbladdercancer.org or adresine e-posta gönderebilir ve sosyal medya kanallarımızdan birinden bize mesaj gönderebilirsiniz.
Rehberin dijital bir kopyasını indirmek için aşağıya bakınız.
Download/İndir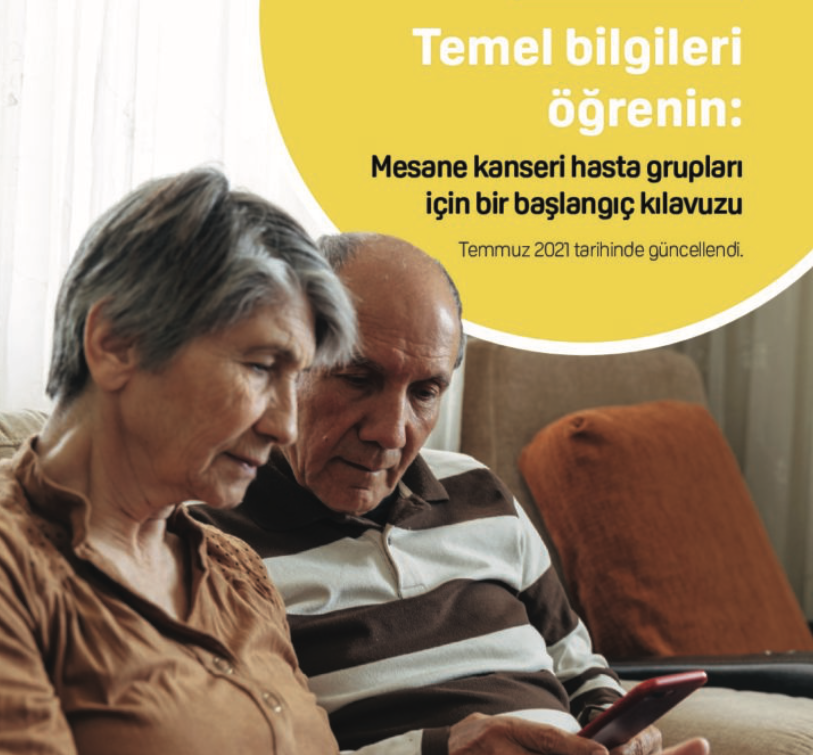 Related News & Events