24 October 2021
.
Brussels
,
Belgium
EVENTS
7th Annual World Cancer Series: Europe
The Economist's 7th Annual World Cancer Series: Europe will convene 2000+ policymakers, health-care providers, industry, and patient groups for robust debate and dialogue.
The faculty of experts will explore not only what can be done to improve cancer control, but why this is urgent.
What are the real-world examples of improved care for the individual with (or at risk of) cancer? How does improving care and patient health across the region contribute to social and economic development across Europe? What concrete steps can be taken to foster better prevention, better care, human capital, more vibrant knowledge economies, and greater equity across Europe?
We start the week on Day 1 looking at how we can develop a road map for cancer control across Europe. Day 2 will examine immunotherapy and CAR-T, and radiotherapy. On Day 3 our expert faculty will tackle the growing area of genomics and personalised cancer care, and digital health and telemedicine. Finally, on Day 4 we will delve into AI and machine learning in pharmaceutical development and real-world data and data analytics.
Confirmed speakers include:
Stella Kyriakides, Commissioner for health and food safety, European Commission
Norman E. Sharpless, Director, National Cancer Institute
Mark Lawler, Associate pro-vice chancellor, professor of digital health and chair in translational cancer genomics, Queen's University Belfast
Princess Dina Mired, Honorary president, European Organization for Research and Treatment of Cancer and Patron of International Society for Pediatric Oncology
Patricia Price, Visiting professor, division of surgery, department of surgery and cancer, Imperial College London
Alex Filicevas, Executive director, World Bladder Cancer Patient Coalition and president,can
Antonella Cardone, Director, European Cancer Patient Coalition
Alfred Samuels, Patient advocate and author
Cary Adams, Chief executive officer, Union for International Cancer Control (UICC)
Averil Power, Chief executive officer, Irish Cancer Society
Pierre Delsaux, Deputy director general, directorate general for health (DG SANTE), European Commission
Lydie Meheus, Managing director, Anticancer Fund
Runcie C.W. Chidebe, Executive director, Project PINK BLUE
Giovanni Tonon, Director, center for translational genomics and bioinformatics, IRCCS San Raffaele Scientific Institute Milan
Ceinwen Giles, Director, Shine Cancer Support
William M. Gallagher, Director, UCD Conway Institute of Biomolecular and Biomedical Research and deputy director, Precision Oncology Ireland
Antonella Cardone, Director, European Cancer Patient Coalition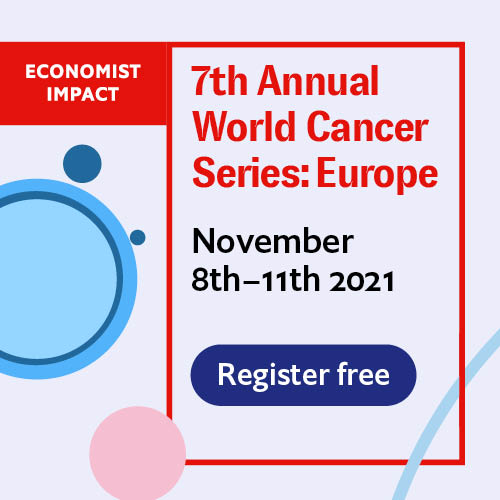 Related News & Events