23 February 2022
.
Brussels
,
Belgium
NEWS
All.Can launches "Building efficiency in cancer care" policy blueprint
Launched at the All.Can International virtual event on February 23, the new policy blueprint offers a common and broadly applicable framework to support collaborative policy action to improve efficiency in cancer care for better patient outcomes and more sustainable healthcare systems. 
Efficient cancer care benefits everyone and it has never been more important. COVID-19 has delayed diagnoses, compromised treatments, and curtailed research – and health systems now face a large backlog of cancer cases. The pandemic has also underscored the vital need to strengthen health systems' resilience through efficiency gains. 
The event highlighted the importance of sustained political will and multi-stakeholder collaboration at international, national, and local levels, to share, adapt and scale good practices shown to improve cancer care efficiency. It built on the momentum around the landmark EU policy initiatives in the area of cancer, including Europe's Beating Cancer Plan and the Horizon Europe Mission on Cancer, and show why tackling inefficiencies across the entire cancer care continuum is key to their success. The blueprint though is universally applicable and can be implemented internationally. 
«Organisational frameworks, data systems, policies and incentives should be aligned towards efficient care, with appropriate resources dedicated to building efficiency in view of the burden and impact of cancer on people affected by cancer and the society.
Alex Filicevas, Executive Director of the World Bladder Cancer Patient Coalition and President of All.Can International
The All.Can Building Efficiency blueprint provides recommendations aimed at decision-makers for adaptation according to the national or local situation, and showcases examples of good practices from the All.Can Efficiency Hub and elsewhere to encourage their wider adoption. 
We encourage everyone to share this report and help improve efficient cancer care.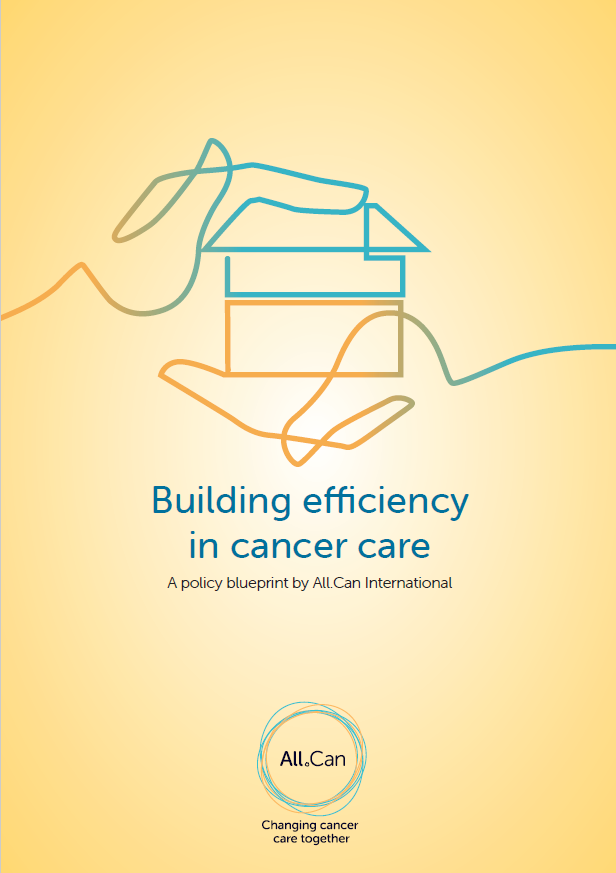 Related News & Events