25 October 2021
.
Dubai
,
United Arab Emirates
Engaging in Advocacy, EVENTS
Join WBCPC at 41st SIU Congress in Dubai – November 10-14, 2021
After spending 2020 at a distance, the 41st Société Internationale d'Urologie (SIU) Annual Congress is being held in conjunction with the 10th Emirates International Urological Conference of the Emirates Urological Society (EUS) during November 10-14 in Dubai, United Arab Emirates.
Join us in Dubai as the World Bladder Cancer Patient Coalition (WBCPC) in the Exhibit Hall at booth 520. Dr Lydia Makaroff, President and Alex Filicevas, Executive Director will be present at the congress to connect with the international urology community, discuss urological care and research around the world and raise awareness about WBCPC activities.
The prestigious event will attract more than 5,000 urologists from around the world, gathering to learn, network, and experience leading-edge developments in the field. Offering a state-of-the-art event, accessible to all, 2,000 participants will be expected to join the in-person congress in Dubai with 3,000 via online attendance.
The SIU Annual Congress presents an opportunity for the World Bladder Cancer Patient Coalition to connect with healthcare professionals from around the globe. Urologists have an important role in helping us connect with bladder cancer patients and patient advocates, who may be ready to do more and support people affected by bladder cancer in their countries or regions. The WBCPC Start-up guide for bladder cancer patient groups is an incredible resource created by bladder cancer patient groups to support young and fledging organisations on their journey.
The World Bladder Cancer Patient Coalition will promote the recently launched Global Bladder Cancer Patient Survey at the SIU Annual Congress to ensure that healthcare professionals are aware of it, and that it reaches as many people affected by bladder cancer as possible worldwide.
The Société Internationale d'Urologie (SIU) was founded in Paris, in 1907. Its permanent headquarters is now based in Montreal, Canada, developing, sharing, and promoting medical education and best practices to improve urological care worldwide. The SIU is a truly international organisation, with more than 10,000 members from 130 countries. Through an emphasis on collaboration and cooperation, the SIU continues to strengthen existing partnerships and form new relationships with national societies and global organisations. The World Bladder Cancer Patient Coalition has announced the formal collaboration with the SIU, to advance bladder cancer patient care around the globe.
If you are joining the SIU Congress in person, make sure to stop by the Exhibit Booth 520 for a chat, or get in touch in advance to arrange a meeting via email to Alex Filicevas, Executive Director at alex.filicevas@worldbladdercancer.org
Registrations are now closed.
You can find the program and the speakers here.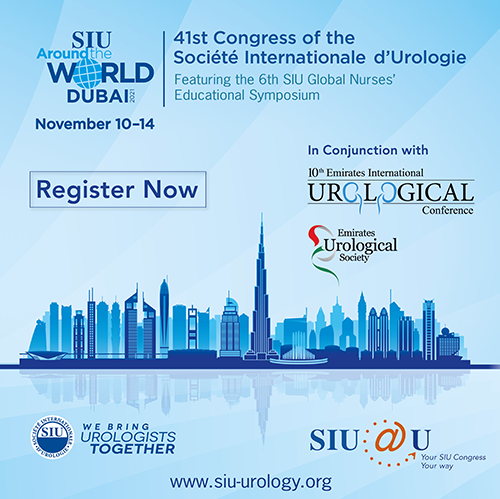 Related News & Events