25 August 2023
.
United States
NEWS
Stacey's bladder cancer journey
Bladder Cancer is the 10th most commonly diagnosed cancer in the world with 570,000 people diagnosed each year. Around the world, the 1.7 million people living with the condition have their own journeys and personal bladder cancer stories to share.
This year the World Bladder Cancer Patient Coalition (WBCPC) wants to spark conversations that raise awareness about the disease by highlighting the symptoms of bladder cancer and overcoming any barriers to seeking medical advice during Bladder Cancer Awareness Month. Early diagnosis and seeking medical advice and care without delay can increase long-term survival. If caught in its early stages – the 5-year survival rate for bladder cancer can be up to 90%.
Below we are honoured to share the bladder cancer journey of Carole. Bladder cancer stories are a powerful reminder of the impact of bladder cancer and also help raise awareness of bladder cancer and highlight the urgent need for new treatments and research, improved care and support for those living with bladder cancer.
Stacey (Female) lives in the United States and was diagnosed in 2021 at the age of 51.
Tell us about how you received your bladder cancer diagnosis?
In 2020 I couldn't get an outpatient CT to rule out kidney stones due to COVID19. I was given antibiotics for possible UTI even though the culture was negative. 2021 I had a recurrence and got a CT scan which found a mass in my left ureter tube and hydronephrosis in my left kidney. I went to see a urologist and had a cystoscopy with a biopsy of the mass. I was diagnosed with high-grade Urothelial Cancer. I was upset that in 2020 I had been refused medical care due to COVID-19 being too dangerous in the meantime, I had a very aggressive form of cancer. I had seen 9 urologists for 25 years, and no one ever said the words bladder cancer. Once I had a diagnosis, I read that all the symptoms I had were potential symptoms of bladder cancer. All my doctors told me not to worry, "some people just have hematuria" I think one of them should have told me to get an annual cystoscopy and CT scan. I do annual mammograms because of my family history, and since I was 40, I would have been diligent if I had known to pursue these tests regularly. For others, I would say if you are having symptoms pursue research, regular testing and if your doctors aren't concerned, find another doctor.
What life changes have you made since diagnosis? 
I work less. I had 3 jobs and now have 1. Work used to be the priority for me but I recognized I no longer have decades to enjoy life and relationships. I don't wait to make plans or say "We should do…" I set a date and then do it. I don't work out like I used to which I miss but I've started doing active adventures with friends like hiking, kayaking, and paddle boarding. I tell my friends and family all the time how much I love them and what they mean to me. I started attending church and my faith has become much stronger. I've found great comfort in my relationship with God. This is a very lonely disease and with that relationship, I never feel alone.
Tell us about your experience with bladder cancer treatment?
My first surgery was to remove the tumour from the Ureter tube and resection it to the bladder. That was pretty easy 2 or 3 weeks of recovery and then surveillance every 3 months. My first cystoscopy found a tumour in my bladder. I did a TURBT and then another one to stage it, and it was stage 2 muscle invasive. I did 3 months of Cisplatin & Gemzar chemo which was very difficult. I lost my hair in 2 weeks. I was nauseous, vomiting, fatigued, metallic taste, etc. If it was a side effect I had it. Also, the cumulative effect was that by the end of it I was down 25 lbs and could barely function but thankfully the recovery from Cisplatin was about 4 weeks. Once I had time to recover, I had a radical cystectomy, a total hysterectomy, and an appendectomy. During the surgery, they found the cancer had been in the lining of my bladder what had looked like a thickening of the bladder wall was actually a tumour. So it was in my pelvic and vaginal walls. I had to have a partial vaginectomy. That was maybe 4 weeks to get to feeling better and then 8 weeks to totally recover. I had opted to have an ileal conduit for urinary diversion, which is much easier to recover from and has fewer complications. It took a few months to get the hang of the urostomy bag and stoma cate but it's been fine. I do everything I want to do. It is more of a body image issue I struggle with at times. Since the cancer had spread to my uterus and appendix I was stage 4. I started immunotherapy a few months after surgery. It was going well until 3 months in. I got really severe Colitis and had to stop immunotherapy. When they did a CT scan to confirm Colitis it showed metastatic disease in my pelvis and lymphnodes. So once I recovered from Colitis I started a new chemo Padcev. I've been on that since December 2022. I had a really bad reaction on the 2nd week of the schedule, so the changed the schedule to every 2 weeks vs weekly. I still get a range of side effects (skin changes, nausea, vomiting, and fatigue are the main ones), but after about 3 or 4 days, I feel okay. My first PET scan was at the end of April for this new chemo and it showed a total response!! I am currently no evidence of disease!! I'll stay on this chemo long term until I can't tolerate it or progress but feel so blessed that I had such a positive response after so many previous poor outcomes.
What advice would you give to others who may be newly diagnosed with bladder cancer?
There is hope, there is treatment and there are cures. Use the resources available at your cancer centre for education, financial assistance, support groups, etc. Read the sites and literature your doctors give you. Steer clear of promises of cures that you can order online. Ask your friends and family for help. People don't know what to do but want to do something so be specific. I've had meal trains, transportation, a house cleaning day, etc. Move!! It is so hard but it helps fatigue and depression. Cry when you feel like it but don't forget to laugh too. Do things, love your people and let them love you, and find gratitude.
Have you reached out to other bladder cancer patients or been part of a bladder cancer support group? 
Yes, I have reached out to several bladder cancer patients and people with Ostomy and Urostomy that I've seen on social media to ask about their experiences. Everyone has been very generous with their time and responding. I've not been able to attend support groups because I work full-time and they meet during work hours.
ead more bladder cancer patient stories from around the world
Are you or your loved one affected by bladder cancer? Your stories can help others facing a bladder cancer diagnosis and help bring awareness to the disease. Please share your journey and fill in this form. 
If you are looking to learn more about bladder cancer, on our bladder cancer information pages or contact with our member organisations closest to you.
If you have any questions, please get in touch with us at info@worldbladdercancer.org 
Download Bladder Cancer Questionnaire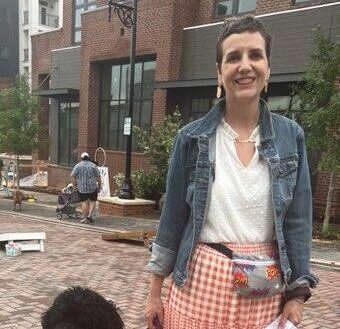 Related News & Events